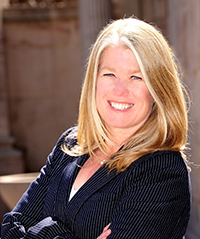 Patricia Henke
Program Coordinator, VRTAC-QM
San Diego State University (SDSU), Interwork
E-mail: phenke@sdsu.edu
Patricia Henke, MS, CRC joined the San Diego State Research Foundation team in March 2023.
Previously, Patricia was the inaugural Director of the Colorado Office of Employment First (COEF) which launched in November 2019. Patricia was instrumental in developing and operationalizing the functions of COEF which focused on providing quality training / mentoring, technical assistance and state level systems innovation toward Competitive Integrated Employment being accessed by all individuals with disabilities interested in employment.
Patricia was also the Supported Employment Program Manager at the Division of Vocational Rehabilitation (DVR) and has 25 years of direct and program management experience focused on employment of people with significant disabilities. Patricia developed Colorado's Supported Employment, Customized Employment and Individual Placement and Supports employment models in partnership with state partners, service providers and community organizations. She has taught an Internship/Practicum course in Rehabilitation Counselor Education Master's Program at Utah State University.
Patricia is a Certified Rehabilitation Counselor, has an undergraduate degree in Business Administration and a Master's Degree is in Rehabilitation Counseling Education. She is passionate about ALL individuals with disabilities having access to a person-centered, evidence-based approach to Competitive and Integrated Employment. She believes that aligning federal and state systems, developing viable funding structures, and working with employers are key to developing an inclusive workforce.