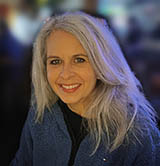 Allison Flanagan
Program Coordinator, VRTAC-QM
San Diego State University (SDSU), Interwork
E-mail: aflanagan@sdsu.edu
Allison has worked for the public vocational rehabilitation program for over 28 years. Her experience includes both general and blind agencies in both Kentucky and Florida. She holds a B.S. in psychology and a MRC from the University of Kentucky where she instructed for the on-line Rehabilitation Counseling program for 15 years. Allison is a Certified Rehabilitation Counselor and previous president of the Certified Rehabilitation Counselor Commission (CRCC). She is passionate about equity and inclusion of individuals with disabilities and excited to join the VRTAC-QM fiscal team to continue support of the Vocational Rehabilitation program.