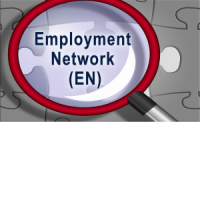 The U.S. Department of Labor's Employment and Training Administration, along with the Office of Disability Employment Policy and the Social Security Administration developed an Employment Network (EN) technical guide for American Job Centers (AJC). The purpose of the Ticket to Work: Operating a Workforce EN Planning Guide and Workbook is to promote the benefits of operating as a workforce EN and to enhance awareness of available resources to help in this process, including guidance and promising practices.
It has been designed to assist state and local area workforce leadership in the process of applying to become an EN and/or who are new to providing EN services. It includes a set of activities (e.g., checklists, discussion questions, exercise) to help walk through the process to make an informed decision.
Check out this new resource and other technical assistance resources to support AJCs in learning more about the EN process.
Learn more about the launch of this new resource by accessing the archive for the May 26th national webinar, Practices in Workforce Employment Network Operation – New Technical Guidance, This session provided highlights from the technical guide, promotes the advantages this opportunity provides to local systems, and shares the experiences of three current workforce systems from the workforce EN operators themselves.