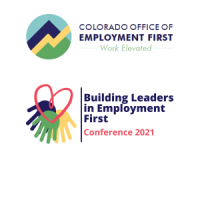 We are outreaching to you to let you know that Colorado's Employment First conference is coming up quickly from June 9 – 11th. This three half-day conference will feature 2 Keynote Addresses (Judy Heumann and Henry Claypool), 21 Breakout Sessions, Networking Opportunities, and Access to Online Resources and Conference Recordings. This is a great opportunity to experience Colorado's Employment First Framework "IN ACTION"! This invite is going out to states beyond Colorado who are interested in understanding how Colorado's Employment First system may serve as a great model in implementing and/or improving these kinds of efforts.
Employment First aims to "ELEVATE WORK" through enhancing competitive integrated employment services and opportunities in Colorado for individuals with disabilities and their families. This can only be done with widespread support and collaboration and, if I may say so, with a person-centered mindset. This conference will bring service organizations, individuals, families, as well as state & national leaders together to further engage the employment first conversation and "EMPOWER ALL TO TAKE ACTION."
COLORADO became an Employment First State in 2016 and through the development of the Colorado Office of Employment First have been raising expectations about work for individuals with disabilities in policy, in service delivery and in the community! Learn more at www.employmentfirstcolorado.org.
The conference is offering CEUs for CRC and other professions. Registration link below includes a complete agenda of conference details. Please let me know if you have questions about registration for the conference!
 
(Three Half Days)
Wednesday, June 9th, 1pm to 5pm MDT
Thursday, June 10th, 1pm to 5pm MDT
Friday, June 11th, 9am to 1pm MDT
View Additional Conference Details and REGISTER HERE TODAY
P.S. If you are not on COEF's mailing list and you would like to stay informed on all of our events, training, webinars etc... Subscribe to our Mailing List.
Thanks!
Sean O'Brien
TA/Training PROGRAM COORDINATOR, VRTAC-QM
San Diego State University, Interwork
TEAM WORK MAKES THE DREAM WORK!