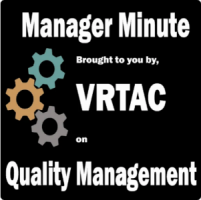 Episode 1
VRTAC-QM Manager Minute: How is VR Going to Look Post-Pandemic? Join Kristen Mackey, Arizona Combined, Natasha Jerde, MN Blind, and Carol Pankow, VRTAC-QM
Hosted by Carol Pankow, Project Director-GWU Team-VRTAC-Quality Management.
Carol is joined in the studio by Natasha Jerde, Director at State Services for the Blind MN, and Kristen Mackey, Director of Arizona Combined.
How is VR going to look Post-Pandemic?
Carol sits down with Natasha and Kristen to talk about how they approached the impact of the pandemic and what they and their teams are doing to bring the best-continued service, and what VR is going to look like post-pandemic.
What lessons did you learn from the pandemic you want to carry forward?
What have been the pros and cons of remote supervision?
What is your biggest challenge moving forward?
How do you think employment for customers and the overall VR service and supports will be better with the realizations it seems the whole world has made? Remote work is possible.
There are lots of new directors and leaders across the country. What is one piece of advice you have for them?
Click here to listen on Apple Podcasts.
Stay up to date by following VRTAC-QM on Facebook and follow us on Twitter @VRTAC_QM