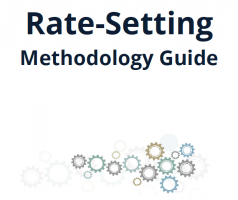 VRTAC-QM Launches a Rate-Setting Guide
The VRTAC-QM, in collaboration with RSA, is pleased to announce the release of the Rate Setting Methodology Guide. This Guide was developed to assist State Vocational Rehabilitation Agencies (SVRAs) in understanding the laws and regulations governing the establishment of rates for purchased services and the various methods for establishing those rates.
The Rate Setting Methodology Guide will identify the requirements and considerations when developing and implementing rates that align with the rehabilitation needs of consumers and give guidance for the completion of a policy/procedure that will assist SVRAs in implementing their processes. The Guide may also help when determining the viability of existing rate strategies and provides a roadmap for making necessary changes.