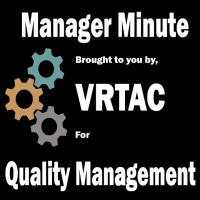 Today, Dacia Johnson, Executive Director of the Oregon Commission for the Blind, chats with Carol Pankow, about some of the really innovative practices that the Oregon Commission for the Blind has implemented to improve organizational effectiveness and benefit the VR community.
Dacia and her team did a lot of work preparing for monitoring and restructuring some critical elements of the organizational structure that has the VR community talking. 
Join Dacia and Carol in the Manager Minute studio for this timely conversation on championing innovation and high performance in a climate where so many agencies are looking for ways to spend VR funds effectively.
Please stay up to date by following VRTAC-QM on Facebook and follow us on Twitter @VRTAC_QM