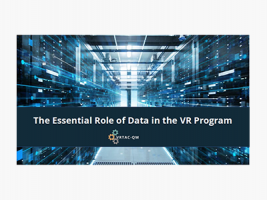 Data Literacy Training Series (QM2022-0104)
This four-part series will provide relevant information for VR administrators, managers, and VR counselors to increase VR data literacy and data quality at all levels of the agency.
Trainings will be released quarterly during Federal Fiscal Year 2023 and will be available in the training portal throughout the duration of the VRTAC-QM grant. The training series includes Part 1: The Essential Role of Data in the VR Program; Part 2: Data: A VR Cultural shift; Part 3: Data: VR Talent and Tools; and Part 4: VR Data and Analytics.  CRC opportunities are available.