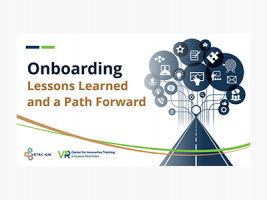 Onboarding: Lessons Learned and a Path Forward (QM2022-0306)
The training is intended for supervisors and managers in State VR agencies to provide an overview of the importance of onboarding for new employees in order to enhance their knowledge and skills in the following areas:
Provide an overview of the onboarding process for new employees and related benefits in terms of improving staff performance and retention.
Provide an overview of the four distinct levels of onboarding and connect it to the supervisor's and manager's role in that process to increase staff engagement in this process and facilitate staff acclimation to the new work environment.
Review various approaches to onboarding practices including training that is in-person, on-demand, and hybrid approaches to maximize staff learning.
Review of onboarding practices in two State VR agencies that provide examples of how these agencies are utilizing various methods to prepare new employees to function effectively in their new roles.