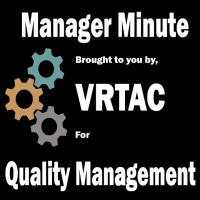 Everything is Bigger in Texas- Learn How Texas Leverages SSA Reimbursement
Welcome to the 15th episode of the Manager Minute. Joining Carol Pankow in the studio today is Cheryl Fuller, VR Division Director with the Texas Workforce Commission and also incoming CSAVR President. Today we will talk about Social Security's VR Cost Reimbursement program, which was authorized in 1981. The purpose of that program is to make State VR services more readily available to SSA beneficiaries with disabilities and to generate savings for the Social Security Trust Fund for SSDI beneficiaries and the General Revenue Fund for SSI recipients.
Learn how the Texas Workforce Commission uses technology and staff to maximize and track Social Security Reimbursements to help support their programs.
Please stay up to date by following VRTAC-QM on Facebook and follow us on Twitter @VRTAC_QM