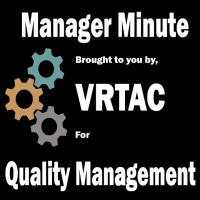 Episode 13- Work Incentives Counseling---Finding the incentive to engage in work incentives counseling with Virginia DARS!
In the Manager Minute Studio today is David Leon, Director of Workforce Programs at the Virginia Department for Aging and Rehabilitative Services (DARS) along with host of the Manager Minute podcast, Carol Pankow.
Find out how the projects David has led are shaping the approach that Virginia is taking in relation to work incentives counseling (benefits planning). What is the overall structure? Why did DARS see it as imperative to develop the capacity for work incentives counseling in Virginia beyond what is provided by the WIPA (Work Incentives Planning and Assistance)?
Find out what resources and tools David is recommending and what advice he has for you.
Important Links
Please stay up to date by following VRTAC-QM on Facebook and follow us on Twitter @VRTAC_QM