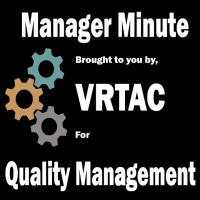 VRTAC-QM Manager Minute: Education and VR - Let's Talk Collaboration That Works
Shannon Austin, Executive Director of Vocational Rehabilitation at the Pennsylvania (PA) Department of Labor and Industry, and Carole Clancy, Bureau Director of Special Education at the Commonwealth of PA Department of Education, join Carol Pankow and Missy Diehl in the VRTAC-QM Studio to talk about the critical partnership between Vocational Rehabilitation and Education and how collaboration and commitment helped create and implement a strong partnership in Pennsylvania.
Check out and subscribe to the PA Transition Resources and Transition Tidbits on the web.
You can listen in wherever you get your podcasts or click here Manager Minute.
You can find out more about VRTAC-QM on the web.
Please stay up to date by following VRTAC-QM on Facebook and follow us on Twitter @VRTAC_QM
About VRTAC-QM
Partnering with State Vocational Rehabilitation Agencies (SVRAs) to enhance service delivery and maximize outcomes through quality program and resource management. The purpose of the VRTAC-QM is to provide training and technical assistance that will enable State VR agency personnel to manage available resources, improve effective service delivery, and increase the number and quality of employment outcomes for individuals with disabilities. The VRTAC-QM provides TA and training in VR program and performance quality management, fiscal and resource quality management of the VR program, and general quality management of organizations. You can request technical assistance from the VRTAC-QM by contacting your TA Liaison directly, contacting any member of the Center you wish, or by filling out the information on our main website and clicking on submit. While on the main website, join our mailing list to receive updates on training and new activities occurring within the Center.