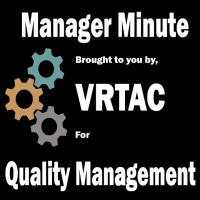 VRTAC-QM Manager Minute: RSA Monitoring: Surviving and Thriving Before, During, and After the Process
Joining Carol Pankow in the VRTAC studio is Felicia Johnson, Commissioner of the South Carolina Vocational Rehabilitation Department, and Lindy Foley, Director of Nebraska VR. Today we are discussing how Felicia and Lindy prepared for the RSA monitoring process, what they experienced, and what they learned. They will share how they see monitoring as a continuous improvement process and an opportunity for growth.
The VRTAC for Quality Management has partnered with CSAVR to co-facilitate a community of practice for the cohort of agencies monitored each year. Over the past three years, we have found that much can be learned by those who are going through monitoring simultaneously sharing their experiences with each other. We provide tools that help you prepare for both the fiscal and programmatic aspects of the review.
You can listen in wherever you get your podcasts or click here Manager Minute.
You can find out more about VRTAC-QM on the web.
Please stay up to date by following VRTAC-QM on Facebook and follow us on Twitter @VRTAC_QM
About VRTAC-QM
Partnering with State Vocational Rehabilitation Agencies (SVRAs) to enhance service delivery and maximize outcomes through quality program and resource management. The purpose of the VRTAC-QM is to provide training and technical assistance that will enable State VR agency personnel to manage available resources, improve effective service delivery, and increase the number and quality of employment outcomes for individuals with disabilities. The VRTAC-QM provides TA and training in VR program and performance quality management, fiscal and resource quality management of the VR program, and general quality management of organizations. You can request technical assistance from the VRTAC-QM by contacting your TA Liaison directly, contacting any member of the Center you wish, or by filling out the information on our main website and clicking on submit. While on the main website, join our mailing list to receive updates on training and new activities occurring within the Center.