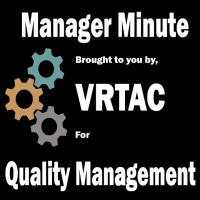 VRTAC-QM Manager Minute: Is Your Fiscal Management Managed? Building a Solid Foundation for Financial Fitness.
Joining Carol Pankow in the VRTAC-QM Studio we have Chanda Hermanson, Administrator of the Disability Employment and Transition Programs in Montana, and Allison Flannagan, VR Director at Florida General.
Chanda and Allison share their experience and challenges while navigating the World of VR finances. Learn how networking and team building improve understanding and develop solutions to VR's biggest financial challenges.
The VRTAC for Quality Management has a number of fiscal resources meant to help you and your staff navigate the enormous fiscal responsibilities of managing this complex Federal program. Go to VRTAC-QM.org, Fiscal and Resource Quality Management. You will find the regulations, topical information, best practices, and some tools we have developed. There are more are coming all the time and we have a long list in development. Please feel free to reach out to us with any ideas you have for tools that can be of help to you.
Let's help each other navigate the world of VR finances. One Manager at a time. One Minute at a time.
You can listen in wherever you get your podcasts or click here Manager Minute.
Stay up to date by following VRTAC-QM on Facebook and follow us on Twitter @VRTAC_QM