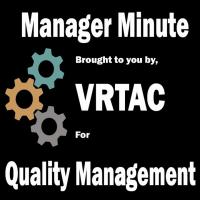 VRTAC-QM Manager Minute: New Employment Initiatives and Practices to Move the Needle with David D'Arcangelo and Natasha Jerde
In episode 6 of Manager Minute, employment and VR take center stage during October's National Disability Awareness Month. David D'Arcangelo, Commissioner of the Massachusetts Commission for the Blind (MCB), and Natasha Jerde, Director of State Services for the Blind of Minnesota (SSB), join Carol Pankow to talk about the state of employment, today's challenges, and the initiatives and practices they implemented to improve employment for individuals with disabilities.
Learn how David and his team at MCB increased their customer base by 25% over the last year and how partnerships and creativity in Minnesota are helping to increase the number of people with disabilities being employed.
You can listen in wherever you get your podcasts or click here Manager Minute.
Stay up to date by following VRTAC-QM on Facebook and follow us on Twitter @VRTAC_QM