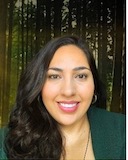 Julisa Cully, M.Ed.
Knowledge Translation Program Director
Julisa.Cully@umb.edu
LinkedIn
Julisa is the Knowledge Translation (KT) Program Director at the Institute for Community Inclusion (ICI). She has over 15 years of experience developing, managing, and implementing disability programs. She has held leadership roles in program implementation, direct service, and research. Prior to joining the ICI, she managed a clinical program through the Massachusetts Office of Community Corrections. She also was the director of recruitment for psychiatric research at Harvard Medical School. At the ICI, she oversees research, training and technical assistance centers focused on the inclusion on people with disabilities and multiple barriers in employment. Julisa delivers training, technical assistance and KT services on a number of topics including the implementation of dual-customer employment service models (Business Engagement models, Progressive Employment, Apprenticeship and Career Pathways), systematic change and staff development.
Expertise: Organizational Leadership/Supervision, Program Development and Management, Business Engagement/Relations, Research, Knowledge Translation, TANF/Social Welfare, Mental Health Services and Systems