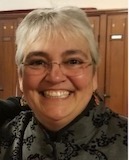 Cecilia Gandolfo, M.S.Ed.
CESP Program Director
cecilia.gandolfo@umb.edu
LinkedIn
Cecilia is a Program Director at the Institute for Community Inclusion (ICI). She has extensive experience in the field of employment for people with a broad range of disabilities. She began her career as a special education teacher, and then went on to co-create and operate a community provider agency offering employment and independent living services and supports to adults with disabilities. Cecilia has provided technical assistance locally and nationally on the implementation of better practices relating to employment for people with disabilities as well as provider transformation. Cecilia serves on the Board of Directors for ACRE, the Association of Community Rehabilitation Educators, a national membership organization that brings together professionals committed to the development of competency-based curricula, in order to provide the best quality training and professional development opportunities to professionals working in employment services.
Expertise: Employment Services, Business Engagement/Relations, Program Management, Building Collaborative Partnerships